Following the huge success of Sly's appearance at the London Palladium in January, the triple 'A-list' superstar, writer, producer and director of almost 90 movies and one of Hollywood's biggest box office draws is coming to Manchester, UK for another evening of conversation.
The event will take place on the 1st of August 2014 at The Manchester Phones4u Arena and will be constructed in an intimate theatre style with only a limited number of tickets available. This is an incredible opportunity to get up close and personal with one of cinema's all-time legends!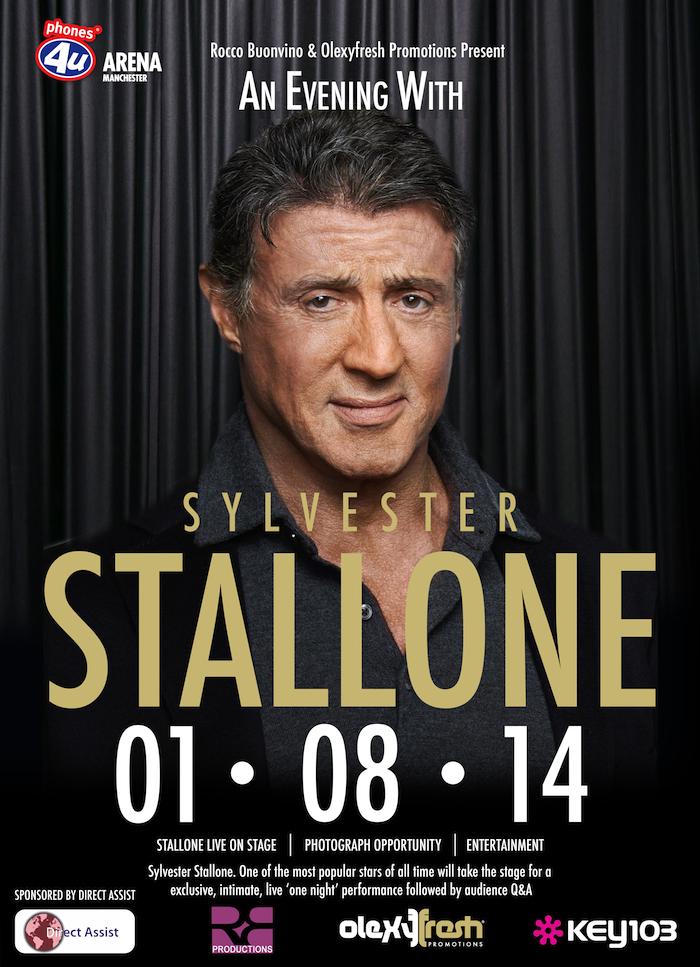 From his breakthrough in Rocky in 1976, to his latest blockbuster movie franchise, The Expendables, Stallone is regarded as one of the most popular movie stars of all time. In this exclusive event, Mr Stallone will share private moments and insights from his outstanding career as he is interviewed on stage by popular Hollywood Journalist Sandro Monetti, flown in from the states to host the evening.
Sylvester Stallone has established worldwide recognition as an actor, writer and director since he played the title role in his own screenplay of Rocky, which won the Academy Award for Best Picture. Rocky grew to a franchise of five sequels and in 2006 Stallone concluded the series with Rocky Balboa, a critical and audience success which resolutely confirmed both Stallone and Rocky as iconic cultural symbols.
In more recent times, Stallone wrote, directed and starred in Rambo, which continued the saga of Vietnam vet John Rambo 25 years after the debut of Rambo: First Blood. His most ambitious project, the action thriller The Expendables, which he wrote, directed and starred in, saw him hire an all star action cast including Jason Statham, Mickey Rourke, Jet Li, Eric Roberts, Dolph Lungren and Steve Austin, as well as Bruce Willis and Arnold Schwarzenegger. It opened at number one at the US box office, making Stallone the only actor in Hollywood history to open a number one film across five decades.
This special evening will be graced with high quality entertainment on stage and backstage, including an exclusive 90 min interview with Stallone followed by a chance for the audience to put questions to the superstar. There will be chances on the evening to win prize draws which include a Stallone meet and greet and professional photo + high quality framed, signed Stallone memorabilia.
This is the ONLY event in the UK, so it is advised to book quickly to avoid disappointment. Click on the image above or follow this link to buy tickets: http://www.olexyfresh.com.
If you are attending the event, let us know in the comments and don't forget to report back on your experience afterwards!