In 1980, Sylvester Stallone contacted A. Thomas Schomberg at his Colorado studio to create the statue of Rocky for the movie Rocky III.
Sylvester Stallone had a very clear vision of what he wanted the statue of Rocky to portray. Rocky, the iconic hero, would be poised with his arms over his head to represent the stage in his career when he was victorious.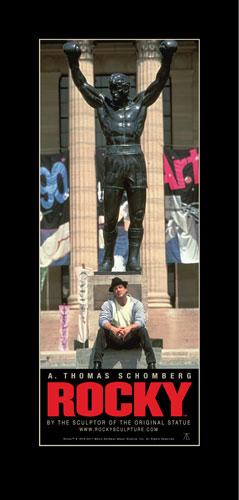 Now, for the first time, an official poster of the Rocky statue, featuring Stallone, has been produced by Schomberg Studios and MGM.
Offered exclusively by A. Thomas Schomberg, sculptor of the original Rocky Statue featured in Rocky III and Rocky V, this terrific collector's item, pictured left, can be ordered online at http://rockysculpture.com.
The size of the poster is 33″ x 15 1/2″. With free shipping in the United States and reduced rates to international customers, this sounds like a great deal for Rocky fans. Be sure to tell them that we sent you.
Except for several temporary placements at the Philadelphia Museum of Art during the filming of the Rocky movies, the statue was installed at the Spectrum Sports Complex, which, according to the movies, was the location of Rocky's life changing boxing bouts.
The Rocky statue was finally returned to the Philadelphia Museum of Art in 2006. This iconic testimonial now stands on a grassy knoll adjacent to the famous steps leading to the museum, where visitors from around the globe enjoy it today.
Already picked up one of these posters? Let us know how it looks as part of your Rocky collection!